University established through Act no. 47 of 2013 in Karnataka State and approved by UGC, Govt. of India
Vice Chancellor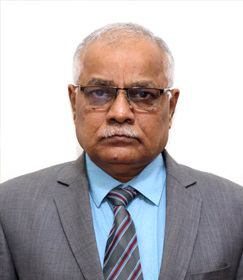 PROF. G R NAIK
Vice Chancellor
Garden City University
Prof. G R Naik was born at Ugar-Khurd in Belgaum district of Karnataka completed his M.Sc. and Ph.D. in Botany from Shivaji University, Kolhapur. He has worked as Professor in Biotechnology, Dean, faculty of Science and Technology and acting Vice Chancellor in Gulbarga Universiry, Kalaburagi. He has also worked as Registrar, Karnataka State Women's University, Vijayapur.
Prof. Naik has supervised more than 28 students for Ph.D. and completed many research projects funded by DST, CSIR, UGC, AICTE, MOWR, DBT, KSCST, etc. His research work on biofuel and sugarcane productivity under stress conditions is well recognized and published in 3 books and 120 research papers. He has visited USA, Spain, Canada, Japan, Australia, UK, Thailand etc. for academic work and research. He has research collaborations with several Institutions, Universities & Industries.
Prof. Naik has received Karnataka Academy Young Scientist award, Canada Titular award, Deccan Sugar Technologist's KP Deshmukh award and Karnataka State Government award.
He is also an executive committee member of Karnataka State Bio energy Development Board, Bangalore. He has established Biotechnology Finishing School and Biofuel information and Demonstration Centre at Gulbarga University. Under Erasmus Mundus, Action plan 2, he has developed partnership with 15 European Universities for academic mobility.
History
Garden City Education Trust was established in 1992 by Dr. Joseph V.G. with the support of like-minded educationists like Prof. Shivarudrappa - former Dean, Karnatak University, Dr. Hanumanthappa – former Vice Chancellor, Bangalore University, Prof V.B. Coutinho - former Vice Chancellor, Gulbarga University and Prof. Rame Gowda - former Vice Chancellor of the Karnataka State Open University.
The Trust was established to set up centres for educational excellence that would accept only qualitative practices nurturing students with value based education.
The Trust began its operations with Garden City College of Science and Management Studies which has an "A - Grade", the highest conferred to an educational institution, when assessed by the National Assessment and Accreditation Council (NAAC) – the premier accreditation body under the UGC consecutively in three cycles of accreditation. These institutions are ISO 9001:2008 and ISO 14000:2004 certified.
In 2013, the Government of Karnataka passed the "Garden City University Act", taking into consideration the merits of the Garden City Education Trust. The Garden City University Act received the assent of the Governor of Karnataka on 26th March 2013 and was published in the Karnataka Gazette on 12th April 2013. A new university campus is being developed in a lush green area spread over 50 acres of land, adjacent to the Volvo manufacturing plant. This is a part of the 150 acres township envisaged by Dr Joseph V G which would have Knowledge Parks, IT and BT Parks, Hotels and Convention Halls, Shopping Malls and Residential areas.
Our vision and belief that social development is an avenue for nation building, is inculcated through our approach and our policies
ALUMNI
The legacy of Garden City University comes from the Garden City Group of Institutions established in 1992.
The Garden City Group of Institutions has been a home for students from 81 nations to this day and the family is growing...
Please note : The above data need not be misread as that of Garden City University which commenced its operations in 2017; however GCU is a part of the Garden City Group of Institutions established in 1992.