University established through Act no. 47 of 2013 in Karnataka State and approved by UGC, Govt. of India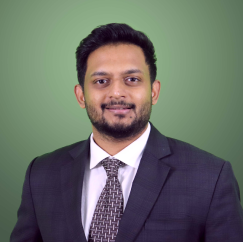 Mr. Christo V Joseph
Director-Strategy and Planning
Garden City University
Mr Christo V Joseph is the Director - Strategy and Planning at Garden City University. He graduated from the University of London and holds a Master's Degree in Education Management from King's College London (KCL).
His final work at KCL explored the impacts of market-driven education models and how private higher educational institutions can contribute to the growth of countries.
He is currently a Research Scholar in the Education Department at Lancaster University. During his time in London, Mr Christo V Joseph has been inducted as a Next Generation Networking (NGN) member from the bilateral trade promotion body UK - India Business Forum.
He is a member of British-South India Chamber of Commerce, helping UK business to expand into the Indian market. He also works closely with the office of the Honorary Consul of the Republic of the Maldives in Bangalore.
Mr Christo V Joseph is the prestigious winner of the Anglo - Sino London Rising Star Enterprise Challenge 2011 at the House of Lords presided by Lord Wi of Shoreditch. He is actively involved with the Bangalore Public Affairs centre CCI engaging with policymakers in the government.
Mr Christo V Joseph is a Fellow of the prestigious Royal Society of Arts & Commerce (FRSA), England which has only 28000 members worldwide. He is a regular speaker at conferences and had presented a paper at the Going Global Conference 2017 in London on "How Universities can help build Global Cities".
Mr Christo V Joseph has a keen interest in the integration of technology in Higher education. He is working on a large scale project to understand the adaptability of technology into the higher education space. He has written several articles and engages with the teaching community on a regular basis around the world. His mission in life is to serve in the higher education space in India and to build quality educational institutions that can compete on a world stage.
History
Garden City Education Trust was established in 1992 by Dr. Joseph V.G. with the support of like-minded educationists like Prof. Shivarudrappa - former Dean, Karnatak University, Dr. Hanumanthappa – former Vice Chancellor, Bangalore University, Prof V.B. Coutinho - former Vice Chancellor, Gulbarga University and Prof. Rame Gowda - former Vice Chancellor of the Karnataka State Open University.
The Trust was established to set up centres for educational excellence that would accept only qualitative practices nurturing students with value based education.
The Trust began its operations with Garden City College of Science and Management Studies which has an "A - Grade", the highest conferred to an educational institution, when assessed by the National Assessment and Accreditation Council (NAAC) – the premier accreditation body under the UGC consecutively in three cycles of accreditation. These institutions are ISO 9001:2008 and ISO 14000:2004 certified.
In 2013, the Government of Karnataka passed the "Garden City University Act", taking into consideration the merits of the Garden City Education Trust. The Garden City University Act received the assent of the Governor of Karnataka on 26th March 2013 and was published in the Karnataka Gazette on 12th April 2013. A new university campus is being developed in a lush green area spread over 50 acres of land, adjacent to the Volvo manufacturing plant. This is a part of the 150 acres township envisaged by Dr Joseph V G which would have Knowledge Parks, IT and BT Parks, Hotels and Convention Halls, Shopping Malls and Residential areas.
Our vision and belief that social development is an avenue for nation building, is inculcated through our approach and our policies
ALUMNI
The legacy of Garden City University comes from the Garden City Group of Institutions established in 1992 and proud of its 45000+ strong Alumni spread across the globe.
The Garden City Group of Institutions has been a home for students from 81 nations to this day and the family is growing...
Please note : The above data need not be misread as that of Garden City University which commenced its operations in 2017; however GCU is a part of the Garden City Group of Institutions established in 1992.