University established through Act no. 47 of 2013 in Karnataka State and approved by UGC, Govt. of India
Chancellor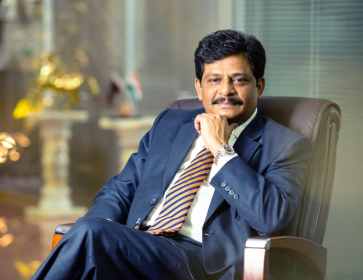 DR. JOSEPH V G
Founder - Chairman
Garden City Group of Institutions
Our Founder - Chairman Dr. Joseph V.G is an educationist par excellence who at a very young age proposed to bring forth qualitative changes in the education landscape in India. He strongly believed that the rudimentary system needed formatting, and a more practical, inclusive approach was essential.
Dr. Joseph is an advisor to the Peer Committee of NAAC (National Assessment Accreditation Council), an autonomous body of the University Grants Commission (UGC), Govt. of India. He is also a patron member of the Red Cross Society of India and several other international organizations.
He is the recipient of many awards like "Shikshanarathna", "Bharat Samman", "Karnataka Chetana", "Pratibha Ratna", "Karnataka Shikshana Ratna", "Karnataka Bhushana", "Pride of the Industry Award", Education Evangelist of India" and "Karmaveer Chakra" instituted by the U.N. for his exemplary contribution to education.
His interpersonal skills are evident through his friends and associates who are world leaders and stalwarts. Their knowledge and charisma acts as a blessing to our students, who we see as the future of mankind. The amalgamation of his dream, his passion and his personality traits have resulted in the emergence of one of the most sought after educational institutions in the country today – The Garden City Group of Institutions. Under his watch as founder/chairman, the group has crossed several milestones, surging ahead aligning with his signature line of creating Dreamers, Achievers and Winners. His passion for education can be seen at all our institutions, which have created a niche for themselves in not being just elementary learning centres, instead, emphasizing on the creation of individual practical thinkers.
As the first Chancellor of Garden City University, Dr. Joseph is tasked with transforming a college into a university. His vision and drive will push everyone associated with Garden City to strive for excellence.
His flair for Kannada literature is well known; he is a great admirer of Sri Basavanna - the great 12th Century thinker and reformer. His accomplishments both within and outside the field of education received recognition when he was chosen as the Honorary Consul General to the Republic of Maldives in Bangalore. He took office in 2008 and he has held three consecutive terms, extending bilateral relations and serving the Maldives and her people whenever called upon.
History
Garden City Education Trust was established in 1992 by Dr. Joseph V.G. with the support of like-minded educationists like Prof. Shivarudrappa - former Dean, Karnatak University, Dr. Hanumanthappa – former Vice Chancellor, Bangalore University, Prof V.B. Coutinho - former Vice Chancellor, Gulbarga University and Prof. Rame Gowda - former Vice Chancellor of the Karnataka State Open University.
The Trust was established to set up centres for educational excellence that would accept only qualitative practices nurturing students with value based education.
The Trust began its operations with Garden City College of Science and Management Studies which has an "A - Grade", the highest conferred to an educational institution, when assessed by the National Assessment and Accreditation Council (NAAC) – the premier accreditation body under the UGC consecutively in three cycles of accreditation. These institutions are ISO 9001:2008 and ISO 14000:2004 certified.
In 2013, the Government of Karnataka passed the "Garden City University Act", taking into consideration the merits of the Garden City Education Trust. The Garden City University Act received the assent of the Governor of Karnataka on 26th March 2013 and was published in the Karnataka Gazette on 12th April 2013. A new university campus is being developed in a lush green area spread over 50 acres of land, adjacent to the Volvo manufacturing plant. This is a part of the 150 acres township envisaged by Dr Joseph V G which would have Knowledge Parks, IT and BT Parks, Hotels and Convention Halls, Shopping Malls and Residential areas.
Our vision and belief that social development is an avenue for nation building, is inculcated through our approach and our policies
ALUMNI
The legacy of Garden City University comes from the Garden City Group of Institutions established in 1992.
The Garden City Group of Institutions has been a home for students from 81 nations to this day and the family is growing...
Please note : The above data need not be misread as that of Garden City University which commenced its operations in 2017; however GCU is a part of the Garden City Group of Institutions established in 1992.