B.Sc. VISUAL COMMUNICATION
Application status

Open
Duration

3 years
Study mode

Full-time
Entry Requirements

Pass in 10+2 / Equivalent with minimum of five subjects
Overview
B.Sc. Visual Communication
Conveying the right ideas as and when required is a major aspect of business, marketing, fashion, IT, food, and just about any other industry that one can think of. Garden City University's graduates will be enabled to empower themselves with the skills needed to flourish within the visual communications industry by being exposed to various aspects of advertising, web designing, photography, and commercial broadcasting.
Students will be exposed to the various avenues of each of these aspects of visual communication and more while being pushed to develop other soft skills that can give them the edge within the professional world. This undergraduate degree is one that opens a portal to a multi-disciplinary field teeming with unique career opportunities. Graduates will be able to serve the organizations they work with as web designers, graphic designers, video producers, graphic illustrators and any other creative visual roles out there. With the skills GCU instils within its graduates, students will be able to work with brands to make key decisions to elevate their social media and advertising presence.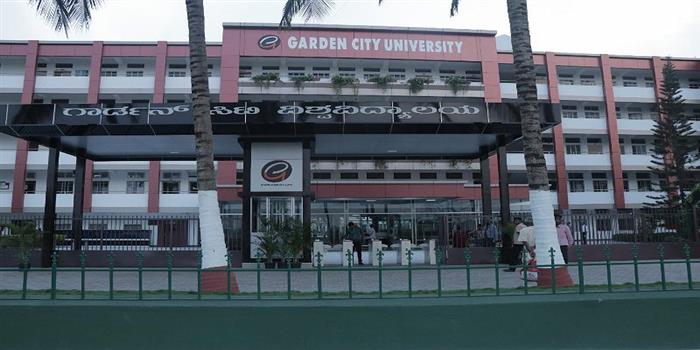 Entry Requirements
Pass in 10+2 / Equivalent with minimum of five subjects.
Wherever grading system or any other system is followed for evaluating the performance of the candidate in the qualifying examination, the applicant should ensure that a certificate indicating the percentage obtained has to be submitted through the University / Board last studied. Applicants passing GCE / O / A level examination should have passed 4 + 3 or 5 + 2 subjects at the O & A level respectively.
The examination approved by the Association of Indian Universities (AIU) only will be considered by the Garden City University. Others who have passed the examination which is not in the AIU approved list shall obtain equivalence certificate from the Association of Indian Universities.
Fee structure for the Academic year 2023-24
Domestic / NRI Fee Structure
Programmes
B.Sc. Visual Communication
Course Duration
3 years
1st Instalment
INR 30,000
5 Subsequent Instalments
INR 60,000
International Fee Structure
Programmes
B.Sc. Visual Communication
Course Duration
3 years
1st Instalment
$ 500
5 Subsequent Instalments
$ 900
OTHER FEES
CAUTION DEPOSIT : Rs. 5000/- to be paid by all the students. (Rs. 3000/- will be refunded after successful completion of the course and Rs. 2000/- would be retained towards registration fees for life time Alumni Association Membership)
EXAMINATION FEES PER SEMESTER
UG Programs: Rs.3000/-, PG Programs: Rs.3500/-, Research Programs: Rs.5500/-, Diploma Programs: Rs.3000/-, Engineering : Rs. 3500/-
Semester 1
Introduction To Visual Media
History of Mass Media & Films
Visual Literacy
Writing for Media
Semester 2
Media Culture and Society
Elements of Film
Graphic Design (Practical)
Photography (Practical)
Semester 3
Crew Roles and Responsibilities
Visual Grammar
Story Development
Script Writing (Practical)
Semester 4
Preproduction
Shoot Planning including Shot Lists and Storyboards
Digital Imaging (Practical)
Edit Theory
HD Camera Operation & Lighting (Practical)
Semester 5
Cinematography
Audio Elements of Film
Sound Design (Practical)
Non-Linear Editing
Semester 6
Documentary Production (Practical)
Short film Production (Practical)
Digital Marketing for Promotions
Streaming platforms
Students Speak
Why I Chose GCU
Spandan Sinha
I am glad to write about my experiences at GCU. My overall experience to date has been absolutely amazing, and the university has a well-developed infrastructure. Our university has provided me with a ton of diverse opportunities to grow and explore my skills. The emphasis on extra-curricular activities along with my education always helped me a lot. I have always found a positive and healthy environment and the professors are highly supportive, friendly and approachable. Most of my doubts were cleared either during or after the classes got over.The entirety of GCU works really hard to arrange placement opportunities for our internships as well as job opportunities after graduation.
Anjitha Chembara Satheesan
Hello, I'm Anjitha Satheesan Chembara from Garden City University, Bachelor of Journalism(H) & Psychology. I'm a Keralite but settled in Mumbai. When I came to Bangalore, I felt everything was new, the atmosphere, the place and everything, at first, I felt I would miss home, my surroundings and my comfort zone but to my surprise, I found my second home here, found a lot of friends and a lot of respectful professors. Garden City University became my second home, GCU has also given me opportunities and support for a chance to pursue my dream as an artist. My professors have always been supporting me and my classmates for becoming better every day. I am proud to be a part of Garden City University. I am proud because of our university faculties and how they guide all of us. Students may have to face a lot of struggles in life but if you are a Gardenian, you know that you aren't alone and you will overcome any situation.
Zeenath Nisha
I am Zeenath Nisha, presently pursuing my Bachelor's in Visual Communication from Garden City University. The infrastructure and highly experienced, and supportive faculty members really help me enhance my skills and knowledge. Apart from focusing on curriculum, the university conducts and organizes various events such as workshops, fests and industrial visits etc., that help us develop our personality. I thank faculties for their guidance and university for supporting us to pursue our dream. I am grateful to be a part of this university and proud to be known as a Gardenian.
Jaisha Mangal
My name is Jaisha Mangal, I am a student of Media Department. I am from Dubai; I came to know about this university from my friend who is also studying in the same department. Later when I enquired about this university with my relatives, I came to know my uncle is an alumnus of this college. After viewing the online page of the university, I came across the pictures of the campus which gave ambient and peaceful vibe which I have not seen in other educational institutions. The greenery in the campus is the main attraction. The university offers a variety of courses to choose from. The faculty is very helpful and friendly which creates a better environment to learn and aim better for the future.
SHREYA CHOWDHURY
University nurtures a massive part of your personality, especially because you meet new people, get to do what you love and the best part - The best faculty! Coming from North India, I have always fantasised about studying in Bangalore and discovering the city so I decided on pursuing my bachelor's degree here, and to my utmost fortune, I am glad to have discovered Garden City University. Quite a large part of GCU is instilled in me and a lot of which contributes to being where I am today. Although we didn't get to attend our entire term of college due to covid, we certainly learned a lot during our online sessions. Throughout the journey, the teachers have been extremely cooperative and understanding. GCU provides a number of curriculum and cultures for students with different interests. I have always been passionate about learning and GCU gave me that platform. I can proudly say I am a student of Garden City University and shall always cherish the memories I got to make. A hearty thanks to you GCU!
FAQ
Garden City University is a 28-year-old institution and INTERDISCIPLINARY in nature. The University has eight Schools under it offering courses from Diploma to Bachelor to Post graduation to PhD. The university has students from 81 different countries and every state and union territory in India. The University has the unique mix of Arts, Science and Management Education offered with Technology as the base. Be it Media studies, Life Sciences or Hotel Management, the emphasis is on practical education with the aid of technology tools to enhance learning and equip a student to work in the industry. Not to mention GCU has the credit of awarding graduation certification to 28 Colonels of the Indian Army attached to the Corps of Military Police.
The admission process is based on the courses offered at the UG and PG level.
The student goes online, fills the application with required details and files the same online for registering for the programme of choice. This will be accompanied by paying a registration fee as mentioned in the application form.
However, if the student needs any clarification, be it regarding the programme of choice or GCU as a University, entry criteria etc, the counsellors at the University are just a call away.
Once the registration process is completed, the admissions department shall communicate on further documents required and fee to be paid for the programme of choice.
Post the above process the student shall submit their original certificate to the registrar's office for validation and verification. Once this process is completed the student gets enroled and an ID card is issued to the student. (Hostel formalities and transportation facilities are addressed in this page)
After enrolment the student shall voluntarily apply for GCU's talent test which shall be the criteria for availing scholarship for the first year of study. Such talent test shall be conducted year on year to encourage studious students and also set the criteria for a UG student to be the most favoured student of choice for PG programmes. Apply Now
The University runs its own hostels for boys and girls separately. The hostels are in the vicinity of the campus with automated entry and further secure measures. More details on the hostel, fees and terms and conditions may be availed from the admissions office.